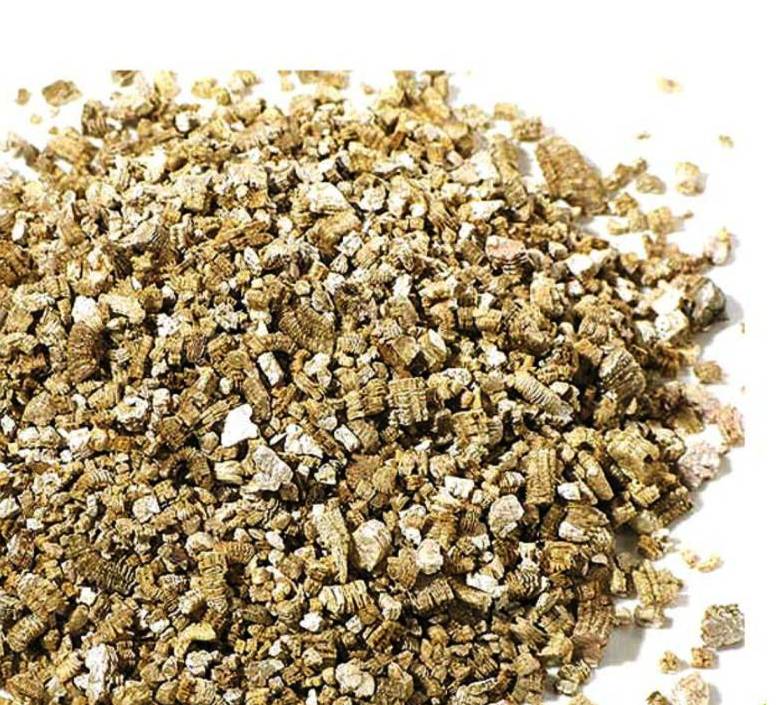 Vermiculite is a natural compressed silicate mineral derived from mined rocks that looks like dry flakes. These compressed mineral dry flakes are heated to a high temperature of 1600℉ resulting flakes to popup to an absorptive and spongy material with a golden brown to dark brown color. Some varieties are yellow, gold or copper. The exfoliated vermiculite absorbs 3-4 times water its volume like a sponge.
The Vermiculite has a neutral pH therefore the pH of soil can be adjusted according to plant requirement. Vermiculite interacts with the potassium, calcium & magnesium available in the soil. Apart from Potting mix It can also be used as mulch around shrubs and other garden plants like roses, dahlias, tomatoes. Vermiculite can be used for arranging flowers. i.e. Just fill the container with vermiculite and thoroughly saturate with water, pour off the excess and arrange the flowers. This eliminates the need to change the water, water spills and keeps blooms fresh for day.
Vermiculite is sterile and a permanent soil conditioner. it doesn't break down in the soil. It improves aeration and water retention of the soil
Advantages of Using Vermiculite-:
Vermiculite added in potting mix and potting soil will accelerate the plants growth and strengthen anchorage for tender root systems.
Vermiculite as growing medium enables the plant to easily absorb the ammonium, potassium, calcium and magnesium necessary for vigorous growth.
Vermiculite can be used directly as growing medium for root cuttings.
Vermiculite alone or mixed with soil or peat for seed germination. This will allow seeds to germinate more rapidly. The seedlings are easily removed without damage to the roots.
Vermiculite mixed half and half with soil, peat or compost provides excellent aeration, reducing watering frequency and allowing root spread.
Vermiculite works as an excellent growing media for transplanting OR repotting, this allows for root spread, provides moisture control and protects the roots from drying out due to sun or wind.
Vermiculite's sponge-like quality of the will absorb any excess moisture and prevent rot or mildew while protecting the plant from temperature fluxes.
Vermiculite is beneficial to newly seeded lawns. Cover the entire area with 6 cm of vermiculite and spray the water over. The vermiculite will hasten germination and increase the number of seeds that germinate while maintaining moisture and protecting from drying and heat.
Vermiculite's good ion exchange capabilities enables it to absorb any excess nutrients and then gradually release them to the plants through the root hair
Vermiculite is sterile i.e. avoids weed germination, fungus, pest, disease development.
Vermiculite's porosity hold high levels of air in soils which is essential for both root respiration and for the existence of soil micro-organisms.