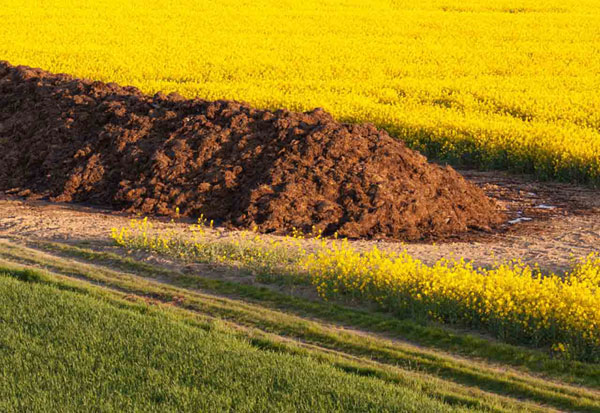 Cattle dung compost is made by composting the cattle dung mainly the cow & buffalo dung.it is rich in nitrogen, organic matter and a variety of minerals, adding nutrition and tilth to the soil. It's generally considered to be one of the best amendments you can add to your garden adding structure and increasing aeration in the soil increases water holding capacity, increases CEC and reduces erosion. It breaks down and gives off nutrients fairly slowly. It is a good source of beneficial bacteria, because of the complex bovine digestive system. It helps the growth of Earthworms present in the soil when it is combined with cow manure. It provides both available and 'slow-release' N, P, K and micro-nutrients to crops.
Cow dung, manure, or feces is a flatulent plant physical discharged on to the ground from the bowel of a cow. Fecal matter is generally not a favorite topic of conversation, whether it comes from an animal or a human. Cow dung is worth blighter, though. It's a useful material and helps us in a variety of ways. It's also a plenteous and renewable resource. It's a shame when it's wasted.
Cow manure has a soft quality and tends to be sedimentation in a circular shape, which gives dung speckle their alternate names of cow pies and cowpats. The manure is used as a rich fertilizer, efficient fuel and biogas manufacturer, a useful building material, a raw material for papermaking, and an insect repellent. Cow dung "chips" are used in throwing contests and cow pie bingo is played as a game. The manure also plays an essential role in the lives of various animals, plants, and microbes, including dung beetles and the Compartment fungus.
Dried cow dung is an excellent fuel. In some cultures dung from domestic cows or buffalo is habitually collected and dried for fuel, sometimes after being mixed with straw. Pieces of dung are lit to provide heat and a flame for cooking. Dried dung has lost its objectionable odor.
Even in North America people are making use of the energy stored in cow dung, although this is usually done directly by devising biogas from the dung. Biogas is an intermixture of gases green goods by the anaerobic digestion of organic matter by bacteria. An "anaerobic" process passes off in the absence of oxygen. The organic matter that is digestible can be animal dung, sewage, plant material, or food waste.