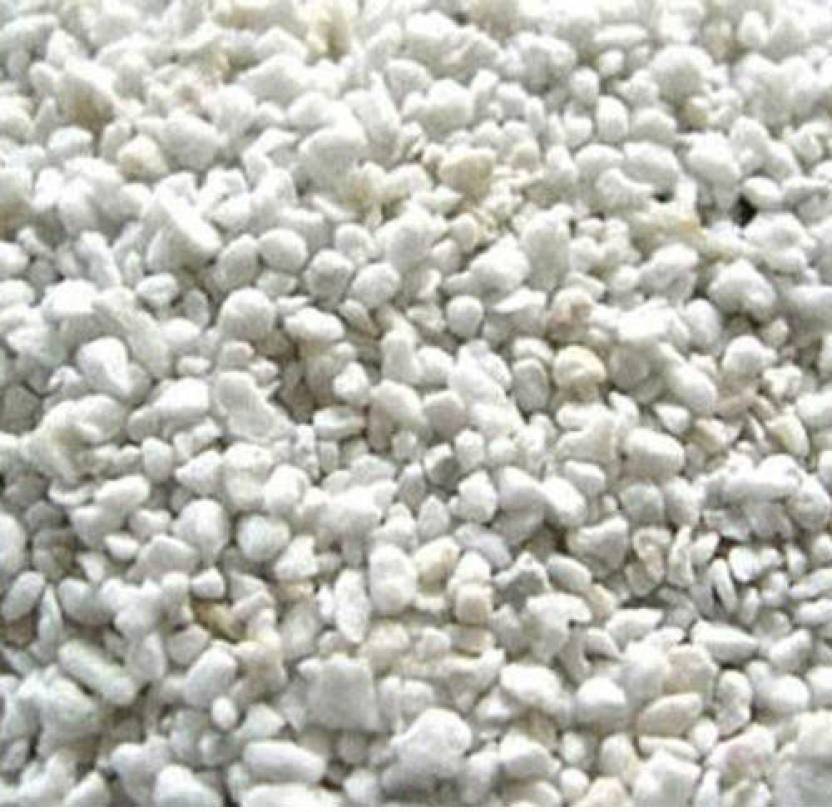 It is an amorphous Volcanic Glass with relatively high water content (2%-6%), typically formed by the hydration of Lava. When it is heated to a suitable point it expands from four to twenty times its original volume.
Raw perlite ore is mined in volcanic areas, crushed, and screened into different sizes and then sent to expansion furnace. The crushed ore is then brought to a temperature (1500°F-1700°F) where the glass softens, and the trapped water molecules turn into steam-making the small rock particle "expand" like popcorn. The resultant expanded particle is a cluster of tiny, porous volcanic glass bubbles-both whole and broken. These broken bubbles and surface openings on the particles provide for water and air holding capacity especially important in horticultural uses. During this expansion process only the physical property of raw perlite changes. This physical transformation makes expanded perlite an extremely effective aggregate.
Due to its extremely light weight, it's widely used in vertical pots / planters to reduce the weight of potting mix. Perlite is mixed with cocopeat for plant stability and to avoid the over watering of plant. Usually the proper ratio of perlite with cocopeat is 1:3. Further, the 5-10%Vermicompost, 3-5% neem cake can also be mixed to make a perfect potting soil for succulents and indoor plants.
Advantages of Using Perlite-:
It provide good aeration to the soil and increase its water & Nutrient retention capacity
It helps dealing with anaerobic condition i.e the porosity of it holds enough air which maintain the oxygen zone in the soil which is needed for healthy root growth
It is a inorganic material so never get decomposed so it is reusable after sterilizing it with heat or chemically with a hydrogen peroxide solution. 
 It is a sterile growing medium because during manufacturing process it is automatically sterilized (being superheated), so there is no chance for bacterial, fungal, or insect pests to get into it. This helps you avoid pest problems!
It also acts as a terrific insulator to protect plants from temperature changes.
It has Neutral PH therefore  it s characteristics can be changed to either acidic OR alkaline according to the plant requirement and if it is be reused then the original characteristics can be brought back by washing it with clean water.