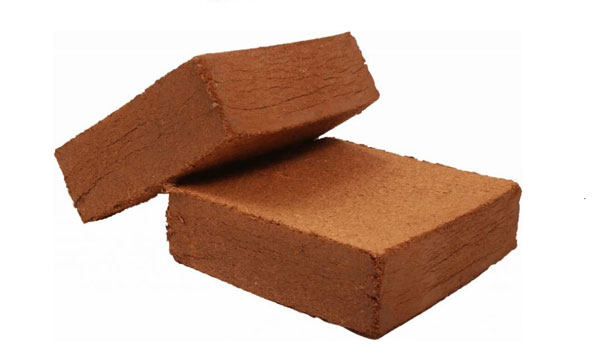 Coco peat is the product processed from coconut husk by removing longer fibre. The fibrous coconut husk is pre-washed, machine dried, sieved and made free from sand and other impureness such as animal and plant residue. It serves as an excellent surface or material on or from which an organism lives, grows, or obtains its nourishment when used for lawn development, growing vegetable, fruits and flowering plants. Coco peat is a very good secondary to traditional peat moss and Rock wool. Its air-filled consistency and high water keeping capacity makes it, an ideal growing medium for the plant crops. It is 100% organic and Eco amiable, free from soil-borne pathogen and weed.
It has many applications as an effective soil conditioner, soil-free medium for planting. Coco peat is ideal for potting mixes, seeding nurseries, mushroom farming and hydroponic growing. Coco peat is the best organic natural fertilizer, as it conditions both plant and the soil and serves as a multi-purpose growing medium. Coco peat stores the water and nutrients within its fibres and helps in uniform growth of the plants. It can be used as landscaping material, bedding for nursery plants, orchids, tree and vine planting, citrus propagation, mushroom cultivation, growing microgreens, hydroponics and aquaponics, vermiculture, playground mulch, living green roofs and many more.
Advantages of using Coco peat
The Structure of Coco peat is useful for the soil conditioning and the coco peat is having a slow degradation rate so that it is used in the growth of the plants.
It Contains air porosity which eventually helps the plants to have strong roots.
It helps for healthy root development because of great Oxygenation properties
Hold and release nutrients in solution over extended periods without re-watering
The Value of pH is 5.5 to 6.5, so Coco peat holds water rather than shedding it. Moreover, many plants and microbes prefer mildly acidic soil. This pH allows plant roots to easily absorb nutrients.
Coco peat offers some natural resistance to plant disease up to some extent.
Coco peat improves the overall quality of the soil. With repeated applications or in the correct mix rates, the soil will become more friable and loose over a period of time.